An event is not the same without somewhere to get a drink and The Mobile Folding Bar is the perfect way to capture this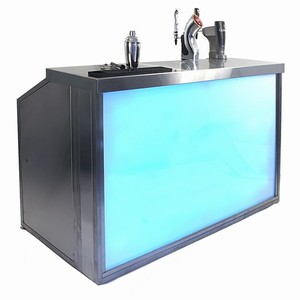 thirsty custom. Ideal for those involved in organising private events, this bar is intended as a temporary installation. When there is a need for a bar, simply set up this easy to build bar, and fill up the shelves with as many kegs, taps, glasses and condiments as you can! Then when the party is over, you can easily dismantle the bar and store it away for the next shindig!
This folding bar can also be used in the house. Its every mans dream to have a bar in his at home, somewhere to serve beers for the boys when the come round to watch the match at the weekend. You can easily fold it back down again and put away before you get moaned at by the wife.
The Mobile Folding Bar has a possible 7 shelves for you to store your bar equipment on, and the front of the bar is an illuminated panel that shines out like a beacon to all the thirsty party-goers! The panel can be provided in any colour you desire.
Tags: folding bar, mobile folding bar
Leave a Reply