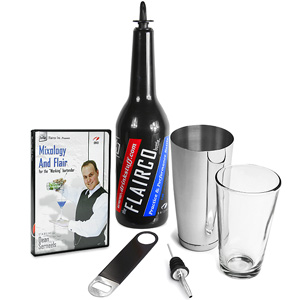 Ever fancied becoming a barman or just wanted to learn how to mix cocktails like they do in bars? Well now you can with the Flair Starter Set available at barmans.co.uk. Get practicing with this starter set, perfect for any budding bartender, whether you're a novice or keen professional. The set includes a training DVD, shatter-proof flair bottle, Boston shaker, bar blade and pourer for practicing all those techniques and tricks.
There is a choice of DVD for different levels of skill.
Flair Starter Set 1 – Mixology & Flair DVD:
This introductory level DVD focuses on classic bartending techniques and low risk, high impact working flair skills.
Flair Starter Set 2 – Showmanship DVD:
Ideal for amateurs, this intermediate level DVD focuses on putting on a memorable flair show and teaching you more tricks and techniques.
Flair Starter Set 3 – Advanced Flair DVD:
Ideal for the more confident flair bartender, this advanced DVD lets you take your skills to the next level and advice on competing in flair bartending
Tags: cocktail, cocktail kit, flair starter kit
Leave a Reply