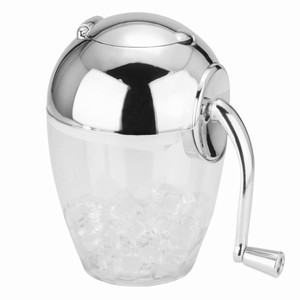 Did anybody else have a New Year's Eve party? Did you forget anything? Run out of ice? Couldn't freeze them quick enough? SNAP! We have a blast at playing host to our friends and family, mainly so we could try out all our new cocktails and drink-related gadgets we got for Christmas. The same old thing occurred…we were busy mixing up some clever concoction of drink when the voices began…"Have you got any ice?" "I'll have a Martini on the rocks" "I can't drink this warm!" The ice bucket had gone. All the mountains of ice cubes had been snapped up and alas, the cold drinks were no more.
Thankfully, by this point, it was only the late comers who really missed out, as after a while and a few drinks more, nobody really minded! (Thanks Uncle Roger!) In hindsight though, we wished we would have invested in one of these… a Chrome Plated Ice Crusher. Whilst this wouldn't have produced more ice, it would have allowed us to put less ice cubes in people's drinks, and also produce some more cocktail bar looking cocktails than the lumps of ice we 'managed' to smash up!
This stylish yet practical Chrome Plated Ice Crushing device sees a stainless steel lid and handle, as well as hidden stainless steel teeth beneath. These are the little nashers that do the crushing. Thankfully, you simply lift up the flap, pour the ice in and close again. Ice-in-the-eye was also another common ocurrance of the evening New Year's, so this seems like an ingenious invention to us! Churn the handle round and the crushed ice will flow into the perspex bottom, ready and waiting for you to serve to guests in a very professional manner. It comes gift boxed and is an absolute steal at £11.99. Any excuse for a party, and this time the ice should go a little further!
Leave a Reply